JEC EUROPE 2013, Paris. 12, 13 and 14 March 2013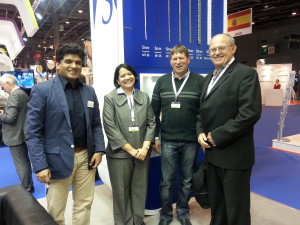 Brett Scholes (Sales Engineer – Synthepol) and Phil Breytenbach (General Manager) attended this exciting exhibition. As can be expected, space age materials and Airbus 380 related parts dominated. If you could not at least show a picture of an Airbus 380 part on your stand – well, then you probably did not deserve to exhibit in Paris!!! In the words of an official at a raw material supplier…"nothing revolutionary…perhaps only evolutionary…!"
Another significant portion of the exhibition was allocated to natural fibres. Various leisure- and automotive industry related mouldings were exhibited ….
…and then it started to snow and snow and snow……and then Brett accidentally picked French "Andouillette" sausage off the menu…(pictures are available at a nominal fee…..)!
Exciting was the dominating Scott Bader exhibition! Various Scott Bader key staff from the UK, the UAE and elsewhere in the world attended. An intriguing moment was when Phillip Bruce, Group Managing Director, mounted a lovely glossy violin case moulded in Crestapol, a methacrylate-based thermosetting resin – …because "… how can I represent my company products without knowing how strong they are?…." Peter Hedley, Latha Ekambaram and Biju Krishnankutty (Scott Bader Dubai) were the perfect hosts and patiently dealt with all our question… Thanks Guys!
Puffed up with knowledge on the Scott Bader Crestabond methyl methacrylate structural adhesives, CrysticROOF roof waterproofing system, Crystic Crestomer urethane acrylate structural adhesives and the well known Crystic world leading gelcoats and resins, Brett and Phil left to return to New Zealand…
…but not after a "quick" trip on the Shanghai Maglev high speed magnetic levitation train at 301 km/h!!! From a standing start to a complete stop between two stations 30 km apart: 8 minutes!!
Looking forward to seeing the Scott Bader colleagues again, at the New Zealand Composites Conference in August 2013!