Scott Bader Middle East Hosting an Expanded 2014 Distributor Conference with New Asian Partners

Scott Bader Middle East held a two day distributor conference this year in Dubai from 21-22 April.  For the first time, the conference hosted new regional distributor partners covering the markets in Turkmenistan, Azerbaijan, Kyrgyzstan, Lebanon, Australia, New Zealand and the South East Asian countries.  Over the last two years, Scott Bader has successfully expanded its distributor network in Central Asia and the Far East in response to significant growth in these regions. Along with these new Asian partners, many of the well-established Scott Bader distributors and consultants located in The Middle East and Africa also attended.  
A total of 100 delegates from over 25 different countries attended this biannual event, run exclusively for independent distribution partners that stock, technically support and regionally sell the full range of raw materials manufactured by Scott Bader for fabricating FRP composite components. The conference was opened by the new CEO of Scott Bader Middle East & Africa, Mr. John Kemp, formerly Global Commercial Director for Scott Bader Speciality Polymers, who took over from Mr. Peter Hedley, who retired in late 2013.  Mr. Kemp commented:
"This conference is happening at an exciting time for the composites business, which continues to grow rapidly, especially in Central Asia and the Far East. We are delighted to have so many new distribution partners attending, which will strengthen our business relationships together for the future."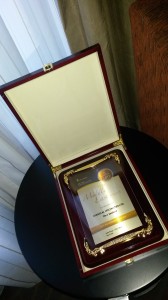 This year's distributor conference the focussed on two key areas.  Firstly, Scott Bader's '2020 Commitment and Vision' strategy for the region and progress to date, and secondly delegates saw a variety of technical presentations about the latest new product innovations, especially from the Adhesives and Advanced Composites (AAC) Business unit. At a prestige's function in the Mövenpick IBN Batutta Hotel in Dubai, Chemical Specialties Limited, the New Zealand and PacificIslands representative of Scott Bader, was awarded with the international award of "Best New Distributor" based on the company performance over the past two years. General Manager Phil Breytenbach who attended the event and accepted the reward on behalf of Chemical Specialties Limited, said:
"Representing a committed,  dynamic company such as Scott Bader in New Zealand is a winning recipe; proven quality products backed by competent international experience, combined with the acknowledged Chemical Specialties Limited local expertise and production facilities to fine tune product properties for the local market. We are looking forward to continued strong growth in all product sectors. Our faith in the local industry is reflected in the fact that we have over the last few months acquired additional premises, invested in new equipment, built our own dangerous goods store and invested in additional senior staff. We have a very busy time ahead!"
About Scott Bader
Scott Bader was established in 1921.  Today it is a €237 million global chemical company, employing over 600 people worldwide. It is a common trusteeship company, having no external shareholders, with a strong commitment to supporting its customers, workforce and the environment. Scott Bader's headquarters is based in the UK where it has purpose-built, state-of-the-art technical facilities that provide R & D as well as complete evaluation, testing and application support. It has manufacturing facilities in Europe, The Middle East, India, South Africa, Canada and South America.